The South Korean pharmaceutical companies are evolving their patent strategies. In the first half of the year, the companies set the historic record of registering the most number of patents. Apparently, their number of patents is on par with multinational pharmaceutical companies'.
According to Ministry of Food and Drug Safety (MFDS) and Korean Intellectual Property Office (KIPO) on Sept. 17, total 134 pharmaceutical and bio related patents were newly registered in the first six months of the year. And 67 patents were applied by Korea companies.
In other words, the multinational companies had 67 patents applied. For the first time in the history, the Korean companies had the number of registered patents even with the multinational companies.
▲ Number of patent registration in half a year by Korean companies (Unit: cases) Source: MFDS and KIPO
So far, patenting was mostly owned by multinational pharmaceutical companies. From 2014 through the first half of 2020, total 1,331 patents were registered, but only the 26 percent, or 341 patents, are registered by the Korean companies. As the multinational companies had more originals, naturally they had more patents.
But as more Korean companies have succeeded in developing new drugs recently, their number of registered patents has increased as well. But because there are more Korean companies disputing over patents, the Korean companies with original drugs feel the need to prepare for patent defense strategy.
As for this year, Chong Kun Dang, SK Chemicals, Boryung Pharmaceutical and LG Chem led the wave of patent registration. Especially, Chong Kun Dang registered total 15 patents associated with Telminuvo (4), Certirobel (4), Raparobell (3), Eso Duo (3), and Tenofobell (1).
SK Chemicals had total 13 patents for Renexin (3), Qudexy (4) and Ongentis (6). Boryung Pharmaceutical had 10 patents with Dukaro, Jeil Pharmaceutical had eight patents with Lonsurf, and LG Chem had five patents each for Zemiro and Zelief Extended Release.
Sources also confirmed Kolon Pharma registered three patents, Daewon Pharmaceutical, GL Pharma, Korea United Pharm, Halim Pharm have registered two patents, respectively, and Daewoong Pharmaceutical, GL Pharm Tech, Taejoon Pharm and Hanmi Pharmaceutical have registered one patent each.
The industry experts say they have to see the statistics for the latter half of the year is to name such surge in patent registration by Korean companies as either a temporary phenomenon or a new trend.
Nevertheless, the number of registered patents for last three months from July through September shows the Korean companies have registered 17 patents (40 percent) out of 42 and multinational companies registered 25 patents (60 percent). Compared to previous years, the ratio of Korean companies' patents has gone up.
An insider from the Korean pharmaceutical industry noted, "Lately, Korean companies are more aggressively registering patents," and "they are expanding the patent scope by registering several patents for one pharmaceutical substance."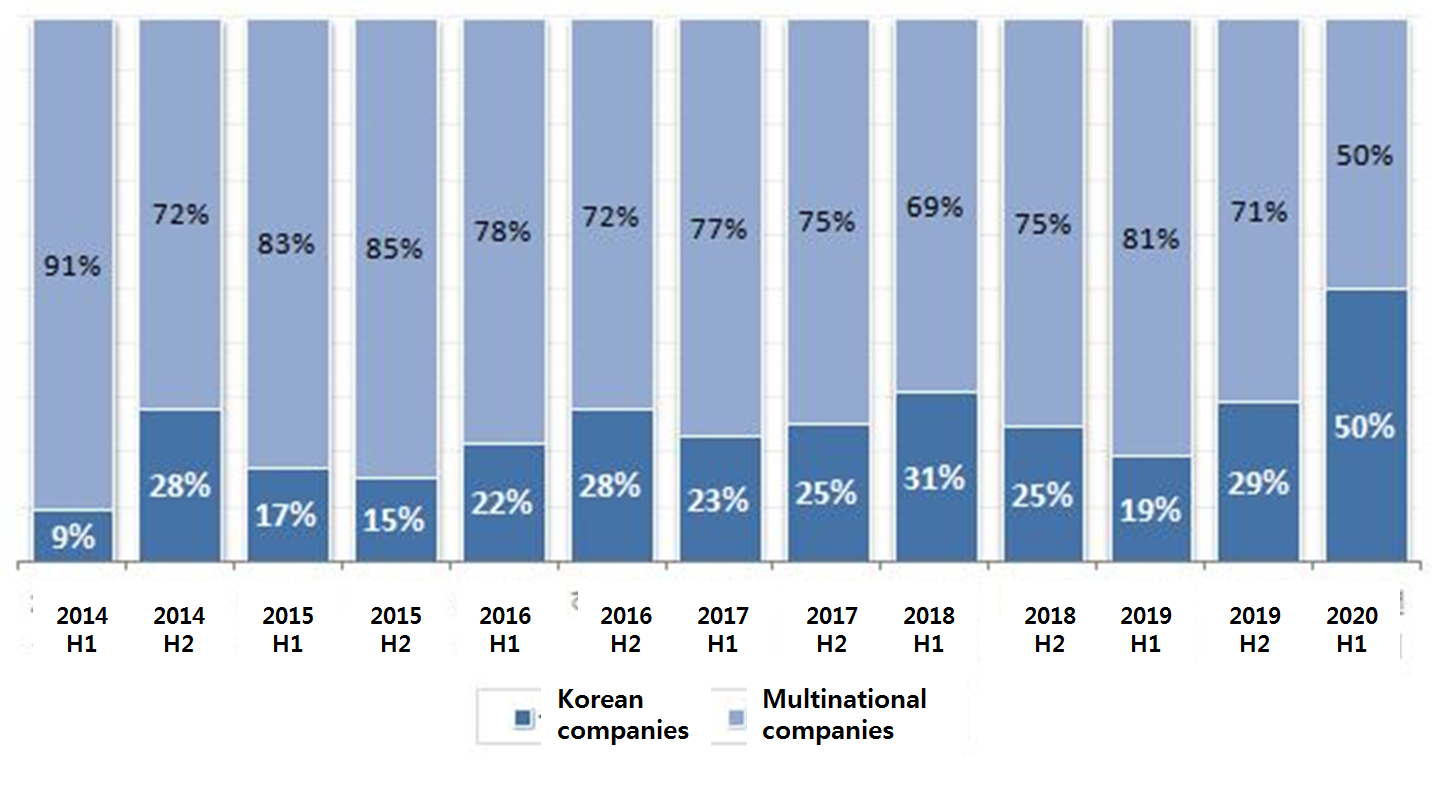 ▲ Ratio of patent registration by Korean companies vs. multinational companies (Unit: %) Source: MFDS and KIPO
The total number of new patents in half a year hit the historic high in the first half of 2020 since 2014, due to the boost from the Korean companies.
The movement to register Korean patents registration took off from 2012, when the KORUS FTA was signed. For two years from 2012 through 2013, the exploding number of patents applications was submitted. In year 2012 and 2013, 563 patents and 868 patents were registered, respectively. Experts say the patents left unregistered until the KORUS FTA were all registered in the two years of time.
Since 2014, the number of patent registration has been around 200 per year. From 2014 through 2019, 181 patents, 234 patents, 223 patents, 223 patents, 126 patents and 210 patents were registered, receptively.
In the first six months of this year, total 134 patents were registered. It was the highest number of patents registered in six months time. The pharmaceutical patent experts explain the Korean companies have become assertive with patent registration as a defense mechanism against generic companies' patent challenges.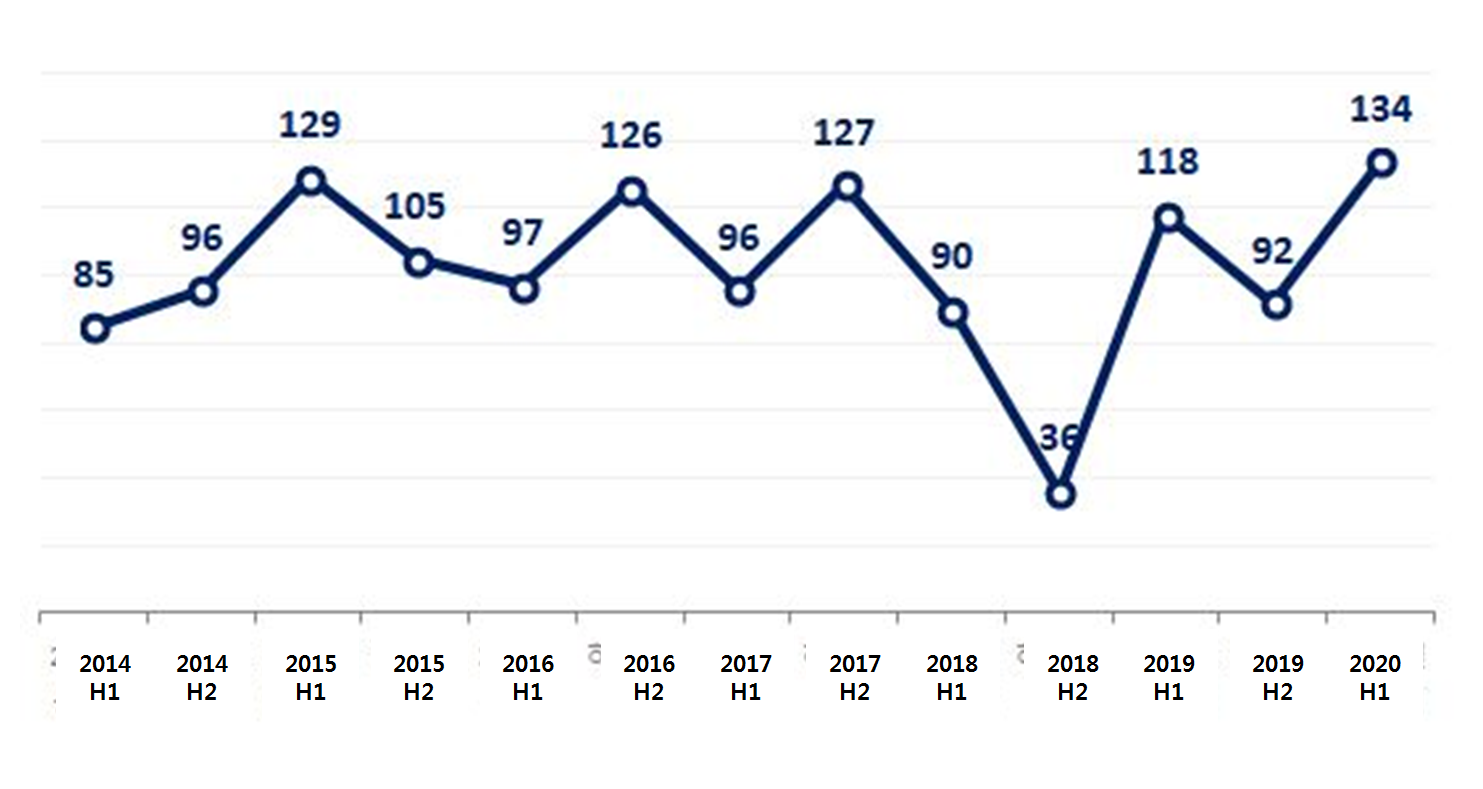 ▲ Number of patent registration by half a year (Unit: cases) Source: MFDS and KIPO
0
Anonymity comment Write
Operate Rule
Colse
댓글 운영방식은
댓글은 실명게재와 익명게재 방식이 있으며, 실명은 이름과 아이디가 노출됩니다. 익명은 필명으로 등록 가능하며, 대댓글은 익명으로 등록 가능합니다.
댓글 노출방식은
댓글 명예자문위원(팜-코니언-필기모양 아이콘)으로 위촉된 데일리팜 회원의 댓글은 '게시판형 보기'와 '펼쳐보기형' 리스트에서 항상 최상단에 노출됩니다. 새로운 댓글을 올리는 일반회원은 '게시판형'과 '펼쳐보기형' 모두 팜코니언 회원이 쓴 댓글의 하단에 실시간 노출됩니다.
댓글의 삭제 기준은
다음의 경우 사전 통보없이 삭제하고 아이디 이용정지 또는 영구 가입제한이 될 수도 있습니다.
저작권·인격권 등 타인의 권리를 침해하는 경우

상용 프로그램의 등록과 게재, 배포를 안내하는 게시물

타인 또는 제3자의 저작권 및 기타 권리를 침해한 내용을 담은 게시물

근거 없는 비방·명예를 훼손하는 게시물

특정 이용자 및 개인에 대한 인신 공격적인 내용의 글 및 직접적인 욕설이 사용된 경우

특정 지역 및 종교간의 감정대립을 조장하는 내용

사실 확인이 안된 소문을 유포 시키는 경우

욕설과 비어, 속어를 담은 내용

정당법 및 공직선거법, 관계 법령에 저촉되는 경우(선관위 요청 시 즉시 삭제)

특정 지역이나 단체를 비하하는 경우

특정인의 명예를 훼손하여 해당인이 삭제를 요청하는 경우

특정인의 개인정보(주민등록번호, 전화, 상세주소 등)를 무단으로 게시하는 경우

타인의 ID 혹은 닉네임을 도용하는 경우

게시판 특성상 제한되는 내용

서비스 주제와 맞지 않는 내용의 글을 게재한 경우

동일 내용의 연속 게재 및 여러 기사에 중복 게재한 경우

부분적으로 변경하여 반복 게재하는 경우도 포함

제목과 관련 없는 내용의 게시물, 제목과 본문이 무관한 경우

돈벌기 및 직·간접 상업적 목적의 내용이 포함된 게시물

게시물 읽기 유도 등을 위해 내용과 무관한 제목을 사용한 경우

수사기관 등의 공식적인 요청이 있는 경우

기타사항

각 서비스의 필요성에 따라 미리 공지한 경우

기타 법률에 저촉되는 정보 게재를 목적으로 할 경우

기타 원만한 운영을 위해 운영자가 필요하다고 판단되는 내용

사실 관계 확인 후 삭제

저작권자로부터 허락받지 않은 내용을 무단 게재, 복제, 배포하는 경우

타인의 초상권을 침해하거나 개인정보를 유출하는 경우

당사에 제공한 이용자의 정보가 허위인 경우 (타인의 ID, 비밀번호 도용 등)

※이상의 내용중 일부 사항에 적용될 경우 이용약관 및 관련 법률에 의해 제재를 받으실 수도 있으며, 민·형사상 처벌을 받을 수도 있습니다.

※위에 명시되지 않은 내용이더라도 불법적인 내용으로 판단되거나 데일리팜 서비스에 바람직하지 않다고 판단되는 경우는 선 조치 이후 본 관리 기준을 수정 공시하겠습니다.

※기타 문의 사항은 데일리팜 운영자에게 연락주십시오. 메일 주소는 dailypharm@dailypharm.com입니다.