▲ Suganon
Suganon (Evogliptin), a diabetes treatment developed by Dong-A ST's proprietary technology, has stepped up its competitiveness. Despite the return of rights, efforts are being made to improve the value of new drugs while seeking new indications. The growth of domestic sales has gained momentum, and it is advancing into overseas markets by completing sales in India and Russia.
According to Dong-A ST on the 23rd, the cumulative sales of two types of Suganon and Sugamet this year were ₩16 billion, which doubled from the same period last year. This is the figure calculated based on the company's own shipments from January to August this year. In eight months, the company announced a new record in annual sales, surpassing ₩14.2 billion in sales last year.
Suganon is a diabetes treatment based on DPP-4 inhibitor developed by Dong-A ST. It has a mechanism of action that inhibits insulin-secreting hormone-degrading enzyme (DPP-4). Dong-A ST entered the domestic DPP-4 inhibitor market with the release of Suganon in March 2016. In May of the same year, it launched Sugamet, a combination drug that combines Metformin with Suganon, and is in fierce competition with competitors.
Suganon and Sugamet had difficulty in securing market share at the beginning of their release as they entered the market as the latest among the nine DPP-4 inhibitors sold in Korea, but their market influence is steadily increasing. From mid-2018, the third year of its release, its quarterly sales exceeded ₩3 billion, and since the second quarter of last year, it has become the company's flagship item by breaking the record for quarterly sales. It is analyzed that the fact that the high selectivity to DPP-4 enzyme is high and that it has little effect on the metabolism of other drugs was actively appealed, and that the reliability of medical staff increased as the prescription experience in the treatment field was accumulated.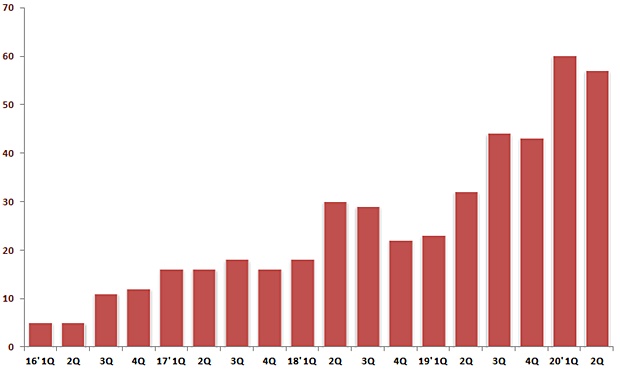 ▲ Quarterly sales of Suganon and Sugamet (Unit: ₩100 million, Source: Dong-A ST)
Suganon will also enter the overseas market. Dong-A ST has signed technology transfer contracts with many global pharmaceutical companies, including India and Nepal in December 2012, Brazil in 2014, 17 countries in South America and 3 countries in the CIS (Commonwealth of Independent States) including Russia in 2015. After signing a contract with Alkem, an Indian pharmaceutical company in 2012, it completed the sale of Suganon in India in March of last year, after obtaining approval for sale from the Drug Controller General of India (DCGI) in December 2018 and March 2019. It also started sales in Russia through Geropharm, a Russian pharmaceutical company that it had a relationship with in 2015. Entering this year, it applied for a new drug license (NDA) for Suganon to a Brazilian regulatory agency, and 17 countries in South America are also undergoing national development and approval procedures.
Dong-A ST is also focusing on developing a new market for Suganon. It was exported to the US pharmaceutical company Tobira Therapeutics in 2016 for a technology export of 61.5 million dollars, and returned it after 1 year and 6 months, and the goal of developing a treatment for non-alcoholic steatohepatitis (NASH) was failed. This is because Tobira's R&D strategy changed as it was acquired by a large global pharmaceutical company Allergan.
▲ Suganon
In January of last year, Dong-A ST signed a technology transfer contract with Rednvia for the development and sale of aortic heart valve calcification treatment for Suganon and began development. Rednvia is a joint venture established by transferring technology to a substance patent for Suganon, a diabetes treatment drug developed by Dong-A ST, and a patent for aortic heart valve calcification treatment at Asan Medical Center.
Rednvia began its global clinical development step in earnest by receiving approval from the US Food and Drug Administration (FDA) for a local Phase IIb/IIIa clinical trial plan (IND) that evaluates the efficacy and safety of Suganone in treating aortic heart valve calcification. Researchers from renowned medical institutions in the United States such as the Mayo Clinic and Massachusetts General Hospital have confirmed their participation, reflecting the high interest of the treatment field.
Rednvia has been conducting phase II clinical trial in 225 patients with aortic valve calcification in Korea since last year. The goal is to accelerate the commercialization of products as much as possible by receiving clinical research funding from the National Institutes of Health (NIH) while simultaneously operating both Korean and US clinical trials. Since there is no officially licensed treatment for aortic heart valve calcification, and it has to rely entirely on surgery, it is expected that if Suganon succeeds in commercialization, it will have high marketability.
Rednvia is also re-challenging for NASH indications, which were once frustrated. In order to develop a combination drug that targets fibrosis in NASH patients, it is examining the discovery of candidate substances that can create synergy with Suganon.
0
Anonymity comment Write
Operate Rule
Colse
댓글 운영방식은
댓글은 실명게재와 익명게재 방식이 있으며, 실명은 이름과 아이디가 노출됩니다. 익명은 필명으로 등록 가능하며, 대댓글은 익명으로 등록 가능합니다.
댓글 노출방식은
댓글 명예자문위원(팜-코니언-필기모양 아이콘)으로 위촉된 데일리팜 회원의 댓글은 '게시판형 보기'와 '펼쳐보기형' 리스트에서 항상 최상단에 노출됩니다. 새로운 댓글을 올리는 일반회원은 '게시판형'과 '펼쳐보기형' 모두 팜코니언 회원이 쓴 댓글의 하단에 실시간 노출됩니다.
댓글의 삭제 기준은
다음의 경우 사전 통보없이 삭제하고 아이디 이용정지 또는 영구 가입제한이 될 수도 있습니다.
저작권·인격권 등 타인의 권리를 침해하는 경우

상용 프로그램의 등록과 게재, 배포를 안내하는 게시물

타인 또는 제3자의 저작권 및 기타 권리를 침해한 내용을 담은 게시물

근거 없는 비방·명예를 훼손하는 게시물

특정 이용자 및 개인에 대한 인신 공격적인 내용의 글 및 직접적인 욕설이 사용된 경우

특정 지역 및 종교간의 감정대립을 조장하는 내용

사실 확인이 안된 소문을 유포 시키는 경우

욕설과 비어, 속어를 담은 내용

정당법 및 공직선거법, 관계 법령에 저촉되는 경우(선관위 요청 시 즉시 삭제)

특정 지역이나 단체를 비하하는 경우

특정인의 명예를 훼손하여 해당인이 삭제를 요청하는 경우

특정인의 개인정보(주민등록번호, 전화, 상세주소 등)를 무단으로 게시하는 경우

타인의 ID 혹은 닉네임을 도용하는 경우

게시판 특성상 제한되는 내용

서비스 주제와 맞지 않는 내용의 글을 게재한 경우

동일 내용의 연속 게재 및 여러 기사에 중복 게재한 경우

부분적으로 변경하여 반복 게재하는 경우도 포함

제목과 관련 없는 내용의 게시물, 제목과 본문이 무관한 경우

돈벌기 및 직·간접 상업적 목적의 내용이 포함된 게시물

게시물 읽기 유도 등을 위해 내용과 무관한 제목을 사용한 경우

수사기관 등의 공식적인 요청이 있는 경우

기타사항

각 서비스의 필요성에 따라 미리 공지한 경우

기타 법률에 저촉되는 정보 게재를 목적으로 할 경우

기타 원만한 운영을 위해 운영자가 필요하다고 판단되는 내용

사실 관계 확인 후 삭제

저작권자로부터 허락받지 않은 내용을 무단 게재, 복제, 배포하는 경우

타인의 초상권을 침해하거나 개인정보를 유출하는 경우

당사에 제공한 이용자의 정보가 허위인 경우 (타인의 ID, 비밀번호 도용 등)

※이상의 내용중 일부 사항에 적용될 경우 이용약관 및 관련 법률에 의해 제재를 받으실 수도 있으며, 민·형사상 처벌을 받을 수도 있습니다.

※위에 명시되지 않은 내용이더라도 불법적인 내용으로 판단되거나 데일리팜 서비스에 바람직하지 않다고 판단되는 경우는 선 조치 이후 본 관리 기준을 수정 공시하겠습니다.

※기타 문의 사항은 데일리팜 운영자에게 연락주십시오. 메일 주소는 dailypharm@dailypharm.com입니다.