The role of law firms has recently grown in the pharmaceutical bio industry. Some process was through law firms. Kim & Chang, Lee & Ko, Yulchon, HMP Law, and LK Partners are expanding their business areas in the healthcare field.
The most prominent law firm is Lee & Ko. The overall evaluation is that, in terms of the health care team members, they compete for the first and second place in the industry with Kim & Chang, both quantitatively and qualitatively.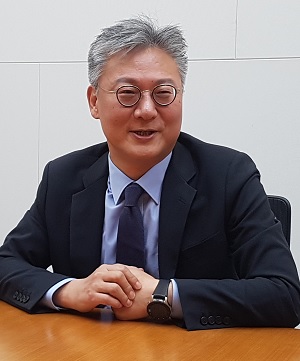 ▲ Legal Counsel of Lee & Ko, Hyeong Gun LEE
On the 24th, I met Hyeong Gun LEE, a representative lawyer (51), who leads the healthcare team at the office of the law firm in Jung-gu, Seoul.
In the field of law, he is already considered one of the M & A experts. He was in charge of M&A, division, and sale of large corporations. Limited to the healthcare sector, Samsung Bioepis, joint venture of Samsung Biologics and Biogen's was established by him.
When asked why the law firm is expanding so aggressively in the healthcare sector and how much more it will expand, he said that it's only now that the team is perfect and full-fledged activities are from now on.
In fact, in 1994 (at that time, the US-Korea Law Firm) when he joined Lee & Ko, the law firm had a healthcare team. However, at that time, it dealt with traditional fields such as M & A, litigation, and patent issues.
As the size of Lee & Ko grew, there were many healthcare tasks. In particular, the demand for customers was expected to surge in terms of insurance listing and application. Eventually, from 2017, the business in the field of reimbursement, drug price, and regulations began to expand.
Lee & Ko has been recruiting talent very aggressively in recent years. Former executive director of AstraZeneca, Young-Sik Byun and former Novartis Director Sung-ju Kim, who were considered to be a master of the M&A field, newly settled in Lee & Ko.
Kyung-soo Kang, former head of the HIRA, Wook Lee, former deputy head of the HIRA, and Young-sup Han, former head of the MFDS, joined Lee & Ko. Prior to that, Chae-min Lim and Gun-ik Son, former Deputy Minister of Health and Welfare were appointed as advisors. As a result, Lee & Ko's health care team of about 50 people including lawyers and professional committees was established.
Accordingly, other law firms are also competitively recruiting talent. In Kim & Chang, Kyung-Ho Lee, former Vice Minister of Welfare, Man-Bok Jeon, and Yong-Hyun Park, former Welfare Department Head, In-Beom Kim, and Jun-Ho Yang, former head of the Food and Drug Administration, and Byung-il Lee, former head of the HIRA, were recruited early. In Yulchon, Hee-jung Choi, former head of the Welfare Department, Yang-ji Ryu, former head of the Welfare Department, and Seong-jin Kim, former head of the Food and Drug Administration were recruited.
"For a long time, it was planned to recruit experts with long practical experience. It may be the first in the industry. The effect of recruiting experts was more than expected. Customer satisfaction and awareness have increased considerably. We can get a good idea of what customers want. Now, it is the best in this field because the team has been built to some extent."
It is said that it is now complete as a team. As a result, Lee & Ko is able to cover virtually all healthcare sectors, from traditional tasks such as M&A, litigation, patent issues, and compliance to drug price and regulatory affairs.
"Among the various tasks, the areas that I want to focus more on in the future are drug prices and regulations. It is also a matter of the individual companies we consult, but we want to put more focus on the institutional aspects. reimbursement and drug prices are directly related to national health. In fact, there are many parts of the drug price regulation that I can't understand even if I look at it as an attorney. It is said that regulation leads the industry, but the standards are too difficult and complicated. I want to be a little clearer and kinder."
It also suggested the goal of expanding its business area towards domestic pharmaceutical companies and bioventures. In fact, the main clients of Lee & Ko (especially in the pharmaceutical sector) were mainly foreign pharmaceutical companies. However, recently, a domestic company has a new drug lineup and is seeking global advancement. He also predicted that their demand would increase.
"Recently, the size of domestic companies has grown. Previously, it was mainly focused on generics and sales, but recently it is developing new drugs and seeking global expansion. However, it is true that the experience of developing new drugs is insufficient. We expect it to help.In fact, inquiries from domestic companies have recently increased. I want to help with bioventure work. Many of these major contracts (M&A, investment, and funding) are thought to be unreasonable. I want to help you to solve this reasonably."
Unlike large-scale law firms, the long-term vision is different from what was expected to prioritize performance and ranking competition.
In the field of healthcare, I want to be uniquely happy with the first place. We want our health care team to be happier than any other place, and we want our customers working with us to be happier. I think that unparalleled happiness is truly the number one value that cannot be counted by numbers. "
0
Anonymity comment Write
Operate Rule
Colse
댓글 운영방식은
댓글은 실명게재와 익명게재 방식이 있으며, 실명은 이름과 아이디가 노출됩니다. 익명은 필명으로 등록 가능하며, 대댓글은 익명으로 등록 가능합니다.
댓글 노출방식은
댓글 명예자문위원(팜-코니언-필기모양 아이콘)으로 위촉된 데일리팜 회원의 댓글은 '게시판형 보기'와 '펼쳐보기형' 리스트에서 항상 최상단에 노출됩니다. 새로운 댓글을 올리는 일반회원은 '게시판형'과 '펼쳐보기형' 모두 팜코니언 회원이 쓴 댓글의 하단에 실시간 노출됩니다.
댓글의 삭제 기준은
다음의 경우 사전 통보없이 삭제하고 아이디 이용정지 또는 영구 가입제한이 될 수도 있습니다.
저작권·인격권 등 타인의 권리를 침해하는 경우

상용 프로그램의 등록과 게재, 배포를 안내하는 게시물

타인 또는 제3자의 저작권 및 기타 권리를 침해한 내용을 담은 게시물

근거 없는 비방·명예를 훼손하는 게시물

특정 이용자 및 개인에 대한 인신 공격적인 내용의 글 및 직접적인 욕설이 사용된 경우

특정 지역 및 종교간의 감정대립을 조장하는 내용

사실 확인이 안된 소문을 유포 시키는 경우

욕설과 비어, 속어를 담은 내용

정당법 및 공직선거법, 관계 법령에 저촉되는 경우(선관위 요청 시 즉시 삭제)

특정 지역이나 단체를 비하하는 경우

특정인의 명예를 훼손하여 해당인이 삭제를 요청하는 경우

특정인의 개인정보(주민등록번호, 전화, 상세주소 등)를 무단으로 게시하는 경우

타인의 ID 혹은 닉네임을 도용하는 경우

게시판 특성상 제한되는 내용

서비스 주제와 맞지 않는 내용의 글을 게재한 경우

동일 내용의 연속 게재 및 여러 기사에 중복 게재한 경우

부분적으로 변경하여 반복 게재하는 경우도 포함

제목과 관련 없는 내용의 게시물, 제목과 본문이 무관한 경우

돈벌기 및 직·간접 상업적 목적의 내용이 포함된 게시물

게시물 읽기 유도 등을 위해 내용과 무관한 제목을 사용한 경우

수사기관 등의 공식적인 요청이 있는 경우

기타사항

각 서비스의 필요성에 따라 미리 공지한 경우

기타 법률에 저촉되는 정보 게재를 목적으로 할 경우

기타 원만한 운영을 위해 운영자가 필요하다고 판단되는 내용

사실 관계 확인 후 삭제

저작권자로부터 허락받지 않은 내용을 무단 게재, 복제, 배포하는 경우

타인의 초상권을 침해하거나 개인정보를 유출하는 경우

당사에 제공한 이용자의 정보가 허위인 경우 (타인의 ID, 비밀번호 도용 등)

※이상의 내용중 일부 사항에 적용될 경우 이용약관 및 관련 법률에 의해 제재를 받으실 수도 있으며, 민·형사상 처벌을 받을 수도 있습니다.

※위에 명시되지 않은 내용이더라도 불법적인 내용으로 판단되거나 데일리팜 서비스에 바람직하지 않다고 판단되는 경우는 선 조치 이후 본 관리 기준을 수정 공시하겠습니다.

※기타 문의 사항은 데일리팜 운영자에게 연락주십시오. 메일 주소는 dailypharm@dailypharm.com입니다.